I first began creating this website about 6 years ago. I had a previous website, through Vistaprint, which I called Sports and Fitness Action, but it didn't feel right. That is when I decided to start again.
With WordPress.com you can create a website for free, and it doesn't take long to set up.
Looking over my blog website and reviewing my blogs I had written, most of it was in regards to fitness but not many blogs about sport.
I love sport as I love fitness and in fact it was my first love before fitness. Like music did and has, it helps take my mind away off from other things that was and are going on in my life. Before fitness came along and became part of my life, I would play sports, being in the school's football team at Primary school, always being picked when it came to rounders, never being left out as I could hit the ball quite hard and far.Then at Secondary school I played in the Stool Ball team for my class, being a good fast bowler, always getting people out and I wasn't a bad bats woman either.
(If you are unfamiliar with Stool Ball, here is a picture of an example of the sport in the picture above).
It was my first confidence booster. Through going to rugby I instantly from going to my first ever match came out of my shell, which is often rare when I have suffered with social anxiety for years. It is an amazing place to meet new people and I was welcomed with open arms. I was treated as if I had been going for years. 
When I watch the athletics, tennis and for example last year, The Olympics, I felt so inspired. It makes me get my arse off the chair and train. It shows that if you truly believe in yourself, visualise a lot that you have already won already, no matter what your background is, you can still become world champion.
I remember when I was a steward at Craven Cottage (Fulham Football Club) back in 1996 when I had just finished school, I was amazed that the same people who no matter what the weather or if the team were winning or losing they would still be there to support their club.  I was just happy to be following one of my dreams, working at a football club.
I had written to every club in London I could think of, going through the Yellow Pages, as I don't think even then, there was any internet. I was desperate to work within a football club, and I was happy to take any job, even if it was serving food or cleaning the toilets.
I even met Ken Bates, who was the Chairman of Chelsea Football Club, as I had landed an interview there for the position of Junior Receptionist. I even sent a letter and C.V to the England Football Association, asking if they had any vacancies, and managed to get an interview there aswell. I wasn't too bothered that I didn't get those jobs, but it was just great to have been given the opportunity and to step inside the two buildings, seeing how the inside of the football club, Chelsea and Lancaster Gate, where the England Football Association office was. It truly was an eye opener, and made me see that there was more to sport than the action you see on the Television.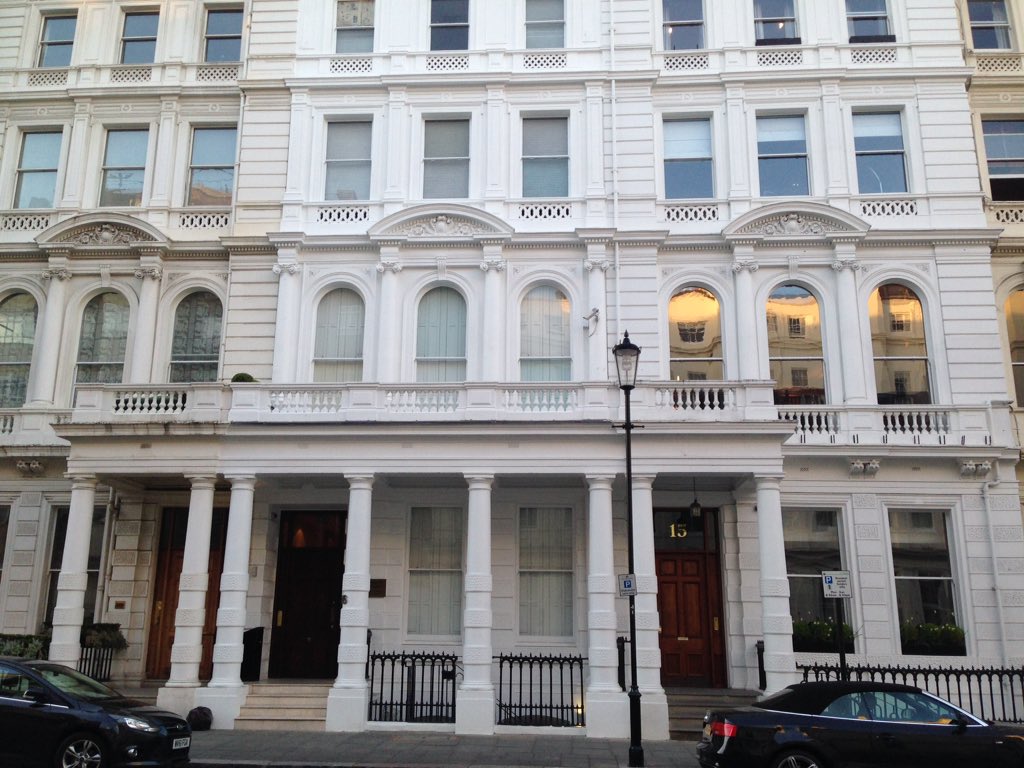 (Image above is Lancaster Gate where the England FA (Football Association) Office is based). 
There is one guy who I still think of to this day, being such a big fan, called Cliff. He would go to every football match Fulham Football Club played, and follow the rugby team I began to watch, who are now called the London Broncos, and he would follow the England Cricket team aswell. 
He would even go over to Australia to watch them. Sport was part of his life. He did work, but he would always make sure he was there to watch his teams play, carrying around his plastic bag with all his football programmes in.
Working at Fulham Football club as a Steward, I remember being told about one lady whom would travel from Ireland to the UK every week or so, so she could come and watch Fulham Football club play.
Is that dedication or what?
To me Cliff was and still is a Sports fan Legend, he is a big tall bulky guy, with a heart of gold, and loves his sport as if was his best-mate. I haven't seen him much now only when I took my son to his first football match three years ago at Fulham FC, and it was only due to the fact that I happen to spot cliff at the bus stop near Putney Bridge, whilst I was sitting top deck of a bus to go on home. 
Come rain or shine, he would be there for his teams, and often getting a bit of 5 minutes of fame himself. 
Everyone knew who he was. Well to be honest you couldn't really miss him, no offence, being a big bloke and you'd probably hear him first before you saw him. He made me see how sport can have such an impact in someones life and bring so many walks of life together.
There is often a dark cloud over it. E.g. football hooliganism, corruption, drug taking, cheating and recently with sex abuse being reported.
It is such a shame that there are those who drag sport down, and give football for example a bad reputation, when there are so many positives when it comes to sport. For me it was, like music, it helped me get through those times when I didn't feel so good about myself, and it helped me with building up my confidence.
I get why those who love sport will spend so much money on replica shirts, will no matter what else is going on in their lives make sure they get their season ticket for the following season, and travel to and from games each week.
I was one of them.
I would often go to football matches at Chelsea Football club on my own, when I became a season ticket holder. This used to surprise people, but I was there to see my team play and watch the sport I loved, so why not? I never experienced any bad things when going.
I still try to even if it is once a year now, and miss going to football or rugby each week. It is an addictive environment that can be like a massive community, a second family.
I have had to put my following of football and rugby on hold, having my son, but he too loves sport. One of my goals is to take him to another football match, or take him to his first professional rugby match, and he even has a football goal of his own, I bought it for him for his birthday,  not set it up as of yet due to the bad weather, but looking forward to doing so.
This year for Christmas he got his own rugby ball, which he instantly played with.
There is so much that can be gained from learning a sport, decision making, communication, team work, observation, building technique and learning about what the body can do and keeping fit and healthy.
So I promise I will add more sport to my content from this point forward, I would not go without it, and has been a massive part of my life change in realising what I can do as a human being, building a more positive mind and meeting so many wonderful people.
Many thanks for reading,
Carrie x